This Christmas we went with Valera, Lena and Misha Saparovi to Northstar at Tahoe Ski Resort. The house was rented by Anton - we did not know him at all. But Valera said that it is OK. Jane and me arrived to the house well before Valera. It was open and empty. In a few hours the house was filled with big Russian crowd.
Having some fun
Socializing Valera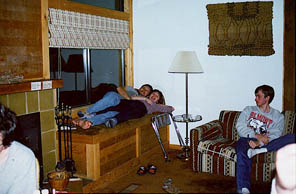 There was a cozy "lavochka"...
Sergei Burkov woke us up at 7 am and rushed to catch first run of the day on the Backside. After two days of skiing on long Black Diamonds slopes we were really tired.
Photos by Saparov's family